Garden Locations
Please do not disturb the home owners prior to the Garden Tour. Thank you!

Click here for Tickets
(Garden Tour runs from June 9, 2017, Noon to 8 pm
thru June 10, 2017, 10 am to 6 pm.)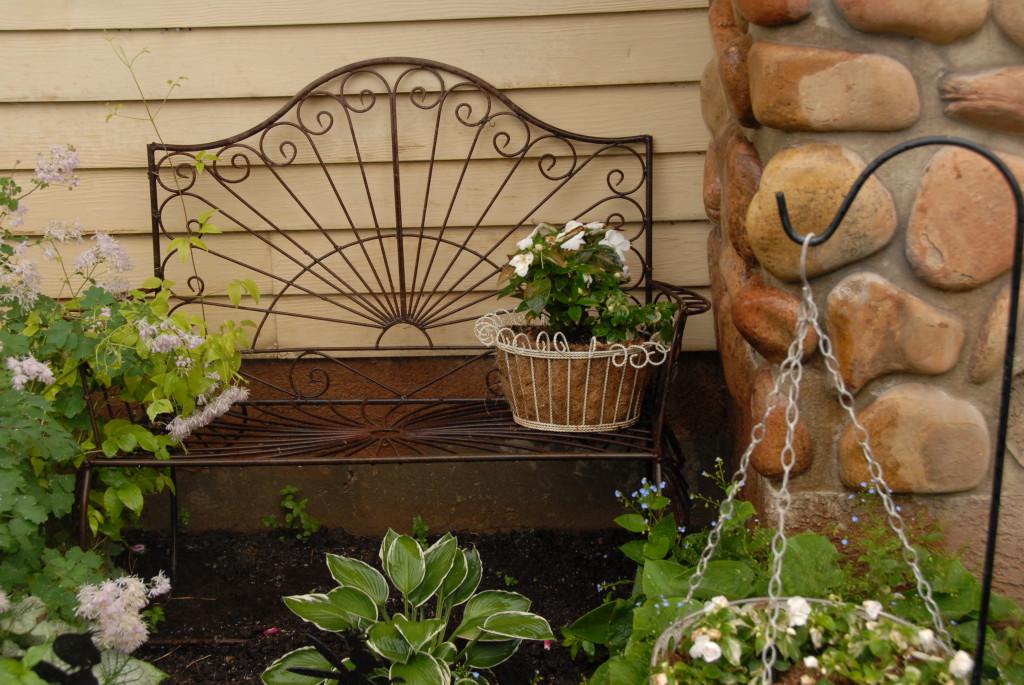 Neal & Domonique Williams
Domonique loves to create her own fantasies in her garden. She wants to be in the mountains but she can't, so she brings the mountains close to her home. You'll feel the serenity of the mountains as you start to relax, smell the wonderful plants and flowers everywhere and then hear the moving water.
Neal and Domonique have created a unique place for outdoor living, with a pizza oven in the back yard and a pool shaped like a mountain lake. Wild sage grows at the back of the pool where nothing else would grow. Rocks throughout the landscape help to continue the mountain theme, with granite rocks around the fire pit that they call "Stonehenge."
On the northeast side of the lot, past the pool, is a garden that was inspired by the pioneers that settled Utah. There are fruit trees, including an espaliered fruit tree, and espaliered evergreens. This is also the perfect place for a vegetable garden.
Domonique has maintained a sense of surprise in the garden. Wherever you walk, you'll come to a curve and then be treated to a view of something new.
This is a unique yard indeed. In the front yard, your eye is immediately drawn to a weeping Beech tree and the Dianthus-lined walkway. There are a number of barberry shrubs across the front of the house which provide beautiful color.
As you step into the back yard, you'll see a large koi pond and a rock berm with a variety of plants. Spruce, iris and Japanese maple accent the pond. Next, you'll see the Proctor's raised-bed vegetable garden and a large children's play tunnel covered by lawn. Beyond this area is a run for their horses.
This landscape has a "family fun" focus. On the west side of the yard Brett and Selena are in the process of installing a pool and the Hobbit Hole, trampoline, playset, fire pit and hot tub round out the activity options for friends and family.
When asked how long Brett has been gardening, he says he learned from his parents and grew up doing it, but he is not a fan. You certainly can't tell that by looking this beautiful landscape with its trees, plantings and large open green spaces.
The Fox yard is immaculate and blooms all season long. Every corner of their ¼-acre landscape is filled with something to delight in.
In the front yard, you'll see 'Fine line' Buckthorn, a lilac lollipop and lavender along the walkway. The side area is filled with container plants that lead to a pathway lined with pavers and a fire pit surrounded by stone benches. Large raised beds are filled with vegetables and a large, overhead archway provides support for growing cucumbers.
The greenhouse in the backyard stays warm all winter and helps them enjoy plants and sunshine year-round. 60-70% of the landscape is filled with perennials and bushes. "I like how perennials come back stronger and better," Maria says. There are very few annuals in the ground; Maria prefers to place them in containers. Lavender, Lilacs and Echinacea are favorites, as well as climbing clematis. A Kwanzan flowering cherry tree, an apricot and a plum tree are also part of the landscape.
Maria found a beautiful swing but needed something to hang it from so Robert built a pergola for the swing. It's securely anchored 4' into the ground with posts. He also built a park-sized swing set for adult kids and grandkids alike.
Karen Chipman doesn't enjoy getting her hands in the soil, so she's all about shrubs and container gardening. There are even vegetables growing in pots. She got her start by reading gardening books her children gave her. After that, she took the Master Gardener class and then she was hooked.
Little pops of color will surprise you as you wind your way around the garden decks that hold Karen's collection of containers and planters with a surprising variety of plants. Don't miss the giant Boston fern and lime and lemon trees that are thriving with Karen's care.  One of the decks is dedicated to her herb garden. She also made the delightful birdbaths you'll see.
When you pass the front entry way notice the pond by the front door. And as you make your way around into the backyard, you'll find it shaded by a beautiful weeping Norway spruce growing over an archway. Karen has used shrubs to transform her backyard landscape. She likes barberries and nine bark shrubs. She has used hostas and coralbells as her shade plants underneath the decks.
Make sure you take the time to enjoy the whimsical glass garden and metal work that enhances the hardscape in the landscape.
The Elms have a cottage style garden. They have used Virginia Creeper to soften their fence line, with beautiful 'Husker Red' Penstemon, 'Pink Lemonade' Honeysuckle, iris and Rose of Sharon in their landscape. True to her name, Rose enjoys roses, and there are many of those filling the yard with color.
There are raised beds around the front of the house, the perfect place for the hostas. Two different kinds of oak trees are in a bed close to the sidewalk and a locust tree almost covers the driveway.
Rose and Reed's backyard faces south and they get a lot of sun, so they've had to make some adjustments for sun and heat, but as their trees have grown, they also had to adjust to where the shade falls during the day. While neighborhood Quaking Aspen have died out from disease, a Quakie that took root in their yard has survived, and they enjoy it. They also enjoy the birds that are attracted to the two plum trees in the yard.
The backyard sits on a hillside, and the Elms have a beautiful view of the valley below. Don't miss the vegetable garden that sits on the other side of the fence in the backyard, just where the land starts to slope.
Gardening is in Howard's DNA. "I guess I inherited it, both on my mother's and my father's side," he says. The Carpenters moved to their property in 1962 when it was an old orchard. The only tree that's left now is a pear tree. They cleared removed old trees and stumps but the land was sloped. After digging out a basement, they used some of the soil to fill in low areas so that Howard could build a dike and flood irrigate the property. He still waters the whole yard that way.
As you walk up to the house, you realize you're walking into a yard that mimics the mountains; it's all trees, rocks and shade tolerant plants. They have over 200 varieties of hostas; some that have been in their landscape for 33 years. What is most amazing is that Howard remembers their names. Most of the hostas were ordered from out of state. As the growing season progresses, the hostas change color and it's a brilliant thing to behold. As you wander around the hosta-lined paths, you'll feel like you're in a forest.
One of the trees is a large English oak that Howard originally started at his mom's from an acorn that he picked up by the Grant Building at BYU in 1959. He later transplanted the oak at his own home.
Nestled in their "Shady Woodland", you'll see an outside kitchen complete with an old-fashioned stove and oven. If you're lucky, you might find some homemade cookies on the table like we did.
Linda grew up in this circa 1873 home. When she moved back into the home in 1973, renters had neglected the yard. Most of the trees were dead and the yard was a dump.
The Walkers hauled away truckloads of rocks with help from their son's friends, who were glad to be paid with pizzas and gas money. Linda said it looked like a graveyard, but after 40 years of work, the yard looks like the beautiful little Garden of Eden they were aiming for. They love to have friends and neighbors stroll in the garden, so they have never put up fences.
The front pathway is lined with roses, the sunniest part of the garden. The landscape is connected with pavers that were quarried by the pioneers. Tall trees in the landscape leave enough sun for their dahlias, snapdragons and roses. A wooden swing and birdhouses built by their son add a special charm.
At the back of the yard is an aviary that includes Button quail, Diamond doves and pheasants. Eleven years ago, they put up an owl house for screech owls. It's been occupied ever since. In June, the chicks hatch out. They don't fly; they just come tumbling out.
The Walker's garden is beautiful and peaceful, just like they hoped it would be
Andy and Lindy own Four Chairs and Furniture and Design in Lindon, and their knack for design shows in their landscape. Lindy says, "We love this house and we want our presentation to make it look welcome." But, she says, a lot of the gardening ideas and the flow of the gardens come from her husband. "He really has visions."
The front walkway to the house is lined with trees. There are also yard roses, flowering shrubs and other trees. Two of their favorites here are the Purple Robe Locust and the White Out roses, which flower all summer.
As you enter the back yard you'll see a beautiful stream running toward a large pool with a beautiful flagstone patio. The raised vegetable beds are along the east fence. To make this area a perfect family place the Allens have also included a swing set, trampoline and a playhouse for watching movies in their landscape.
Jamie Gardner has her own philosophy about gardening. "I love to plant something and watch it grow, harvest it, can it. I just love the idea that I can be sustainable. I love to harvest vegetables and eat fresh food. I like to watch something ugly turn into something beautiful."
When Jamie started first in her yard in Lindon, she struggled with clay soil. She and Ryan added compost and manure and after amending the soil, they've been able to grow in it. They have two garden boxes at their house as well as flower beds, a putting green, sports court and trampoline. An inviting rock walkout basement into the back yard is planted with shrubs, ground cover and Japanese maple.
Next, you'll want to visit their acreage on Lakeview Drive. Head back to 600 W then turn right and make a right on Lakeview Road to 615, behind the house.
They've been gardening here for 3-4 years. Jamie's favorite part of the garden is a teepee that she built for her snap peas. She plants her peas at the bottom of the teepee and the peas grow up the chicken wire. She also plants pumpkins and gourds and says she had oodles and oodles of them last year.
They also enjoy homegrown fruit from a "fruit salad" tree and their raspberry and blackberry plantings.  Ryan and Jamie added flowering pear trees. The newest addition to their landscape is an outdoor kitchen. What's Ryan's favorite part of their gardens? Something you don't see very often - a soccer field.
The first thing you notice in this landscape is the house; it's 130 years old and beautifully renovated. It's inviting and looks like it's straight off the cover of a magazine. The property slopes upward and is covered in shade from giant maple trees. Virginia creeper covers a gazebo in the front yard, while roses grow along the front walkway of the house.
The driveway for Kelly and Teresa's home was built by hand, Kelly's, using recycled cement slabs of different sizes. It looks like a rock puzzle accented by moss and ground cover between the pieces. Kelly also used concrete slabs for the front stairs.
As you make your way toward the backyard, you'll pass a fireplace and fire pit. There is a quaint playhouse tucked in amongst the trees. Look for the giant heart-shaped planting of Bishop's weed underneath the apple and cherry trees. The cherry tree is over 85 years old. You may also notice the large planters filled with dianthus and other perennials. The planters are recycled cement pipes.
This beautiful green space is so peaceful. The sight of more gazebos may cause the thought of weddings to spring to mind, and many have been held here.
224 East Ridge Road(1770 N)
Jon Vodden has spent 23 years designing and perfecting his landscape, and tackled many landscape challenges along the way.
The first challenge was the fact that his property was on the side of a hill. Jon solved that problem by hauling in soil and creating three tiers to level off the slope. He also added a rock wall and a water feature-a 10' waterfall. When the waterfall was finished, Judi felt it was too loud, but now she is used to it and the sound is both therapeutic and refreshing.
As you descend 14 curved steps, you'll feel like you're stepping into another world. There is a lot of open green space, but turning every corner brings a view of something new. A koi pond is filled with fish, and a small bridge takes you behind a 35' weeping white spruce.
Hidden among Jon's small arboretum with juniper, Japanese lilacs, mollusk crabapples and blue spruces is Judi's fairy garden, inspired by her desire to be part of the landscaping project. Jon was opposed to the fairy garden proposal at first, but Judi won him over.  The garden will win you over as well.
When you reach the back of the lot, look down the hill and you'll see the Vodden's neat-as-a-pin vegetable garden where Jon and Judi raise enough food to share with others.
1680 North Moor Lane (350 E.)
Elaine enjoys an early springtime in her small greenhouse where she starts 28 flats of colorful flowers for her front yard. Her annual and perennial beds let her showcase her love of flowers and flower gardening. The beds are filled with over 900 blooming tulip, daffodils and hyacinths in the spring and Elaine replaces them with her home-grown flowers for the summer.
When David and Elaine first moved to this home, there were two different levels in the backyard and they've used those levels to provide a lot of interest and opportunities for their landscaping projects.
On the upper level you'll find a waterfall that doesn't fall into a pond. There was a pond there at one time but was replaced with a "pondless" feature. Also take a look at the large, two-story playhouse, complete with a queen-sized bed, which Grandpa built for the grandkids.
Closer to the house you'll see a miniature fairy garden. Check out "Radiator Springs" from the Cars movie with Lightning McQueen and Mater the tow truck, including a road for running little cars, and you'll know it's all about the grandkids.