Garden Locations
Please do not disturb the home owners prior to the Garden Tour. Thank you!

PRINTABLE MAPS
TICKETS
Free Workshops for all ticket holders.  
Guidebook with maps and directions
is also available at any garden.
(Garden Tour runs from June 3, 2016, Noon to 8 pm
thru June 4, 2016, 10 am to 7 pm.)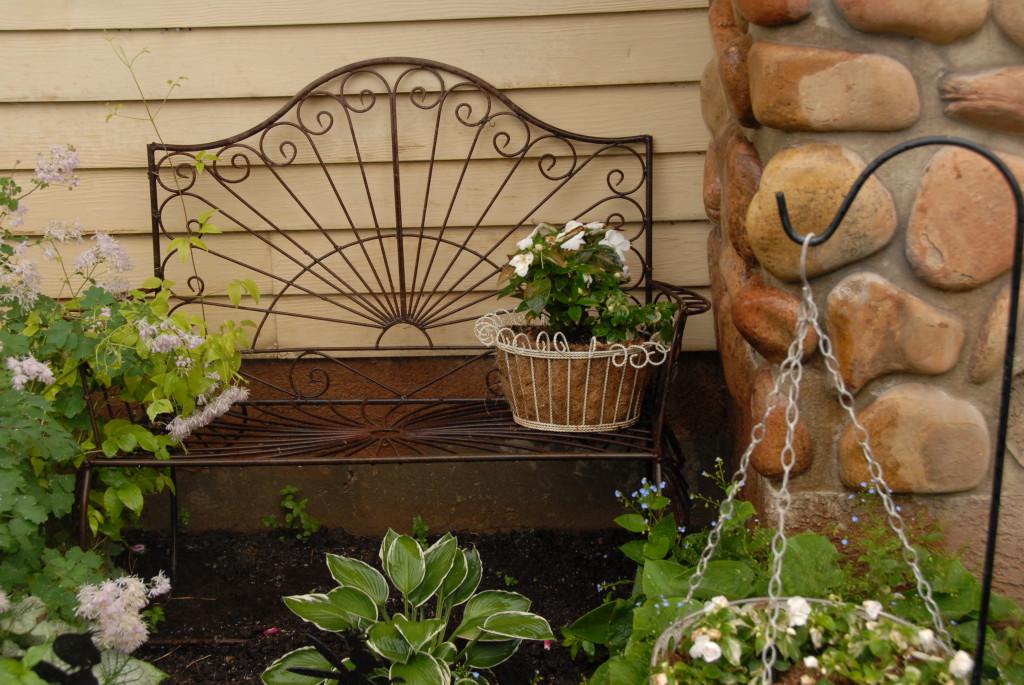 This small, old-fashioned garden surrounds a home that was once part of a good-sized farm. Colleen Goff grew up across the street from here, when the now busy street was a one-lane country road. The Goffs, who purchased their home 42 years ago, love their charming home, and their yard gives hints for living on a high traffic street.
Though the home existed for years before they bought the property, the Goffs have built their gardens from the beginning by taking out everything that existed in the previous yard. Now a rustic wrought iron fence next to the sidewalk signals the border of the yard. The Goffs love quaking aspens they planted in the front of their yard as an effective visual screen and sound barrier. Fortunately they have not been plagued with the invasive spreading tendencies of many quakies.
A shady path with colorful pansies and lush ground cover among the trees invites the visitor to meander toward the side yard. The owners have integrated throughout the gardens antique farming tools, old vehicles including a 1952 pickup truck, a colorful vintage trailer, and even a pansy-filled claw-foot bathtub. Note the rustic homemade trellis for their gourds. A charming old barn provides a perfect background for this pleasant garden.
Many of the plant varieties such as the heritage roses in their yard have come from a botanist neighbor. This same friend became very excited when he discovered that the iris starts Colleen got from an elderly neighbor were historic iris varieties, some of the iris "originals".
The Goffs find great pleasure in moving plants around a lot "until they're happy." Through the years, they have amended the clay soil repeatedly, mixing it at times with soil improvements in a vintage cement mixer. Not ones to plant vegetables, they do have a healthy, ever bearing raspberry patch that keeps the owners busy when the plants are producing.
Colleen says she used to have a real problem with snails, but after they took out all of the ivy that was pervasive throughout their yard, the snail problem disappeared!
This relaxing, vintage garden brings great pleasure to the Goffs and any guests lucky enough to discover it.
1472 East Sego Lily Drive
The Sego Lily Gardens are an educational garden designed for the public to observe and learn how to use water conservation principles and practices to create a beautiful and water-wise landscape. As you walk through the garden, please take time to read the interpretive signs and plant identification tags designed to help you learn about water conservation principles, practices and water wise plants. Please stay on the paths and remember to leave plants and materials where they are for the enjoyment of future visitors.
This garden is funded and maintained by the Sandy City Public Utilities Department. It is Sandy City's hope that Sego Lily Gardens will provide inspiration and practical ideas that garden visitors will apply to create their own water wise landscapes. 
Sego Lily Gardens is located on 2.5 acres surrounding an underground water storage tank. The water tank can hold 5 million gallons of water. Judith M. Bell, Public Utilities Director, 1995-2004, conceived the idea for the Gardens and it was named after Utah's state flower, the Sego Lily. In 2004 Shane Pace, Public Utilities Director, approved a renovation and revitalization of the Gardens and they are now prospering as an Outdoor Classroom in Water Conservation for Sandy City residents. With the average rainfall in Utah at approximately 13" per year in comparison to over 30" on the east coast, we live in a desert state. Because of this, we need to be very conscientious about how much water we use inside and outside of our homes.
The good news is that conservation does not mean settling for a landscape without color. Xeriscaping can be very colorful and beautiful while using water wisely as you can see here at Sego Lily Gardens. By planning and designing your landscape carefully, improving the soil and selecting proper plants, designing practical turf areas, irrigating efficiently and using mulch to help maintain your landscape, you can have a healthy and pleasingly beautiful landscape. We hope you enjoy your visit to Sego Lily Gardens!
When the Ahlmans purchased their home over 20 years ago, the entire block was lined with flowering pears, but the yard itself was quite bare. Soon, pavers replaced the broken driveway concrete, an iron-work fence defined the yards, and a garden area was established on the west side. Plants including berries from family and neighbors were added to newly planted areas, with trees as the focus of each bed.
Note the pruned alberta spruce and the ivy on a stucco house.
Bob likes specimen trees, with the goal to recreate "a grove effect," reminiscence of upstate New York. Now the entire yard has both privacy and shade, except the west side yard, where his love of pleaching (look it up!) small trees and large shrubs creates more visual interest by revealing the shape and natural structure of each plant. Perhaps Bob's his pleasure in gardening has replaced an earlier goal to pursue a career as an artist.   
The back yard is entered through a grove of pleached oaks, under-planted with huge ferns, astilbe, and other naturalizing perennials, moving us into a wonderful mixture of formal and natural elements. The miniature boxwood hedge separates large trees and flowering shrubs from a curve of grass (note the emerging arches Bob has been training on the hedge for the last two years). Numerous structures and ornaments of stone and metal and fiberglass are placed amid the planted beds. Note the container under the ornamental pear. The patio blends all of these elements, especially the metal pergola and fiberglass pillars which cover a large seating area and some of Bob's favorite specimens.  
Bob claims that many of his gardening and structural choices have been specifically chosen to eliminate time-consuming chores or repair and replacement.  But I'm a bit suspicious of this claim: after all, Bob takes the time to cover unattractive coconut fiber planter liners with sheet moss, or gathers sprouting acorns or sprouting ferns for envious visitors. And notice the large bird house in the side yard: Bob rebuilt it with pvc when it began falling apart. As a side note, Bob does research on intrusive plants, with some success in controlling them.
After 26 years, these gardeners long for more sun, but acknowledge that shade keeps utility bills down.
This yard provides an excellent example of residential xeriscaping, reminding us that we can all install and maintain landscapes that are attractive, functional, and appropriate for the desert Southwest.  The owners became frustrated with high water usage lawns in our arid situation and wanted a yard that would be environmentally-friendly and more reflective of our native plants.  They installed their water-wise landscape some years ago, working with a local nursery for the overall layout and the native plants.  They installed all of the drip irrigation themselves.  While not maintenance free, the yard requires fewer resources (both water and human!) to maintain its lovely appearance. 
The yard features both sunny and shady spots, with selected plantings for each micro-climate.  Columbine plants spread cheerfully in the shade, while the drip irrigation delivers water directly to peonies and other blooming plants in the sunny spots.  Note the fruit trees, which are a favorite of the homeowners, on the south side of the house. 
The back yard is divided into two areas.  Entering through the gate on the north side of the house, you will arrive at the vegetable garden.  The homeowners attended a class on Mittleider gardening at Thanksgiving Point and decided to install three of the raised beds with sand-and- sawdust "soil" here.  The beds hold a variety of produce, with the crop this year featuring two kinds of lettuce, spinach, basil, tarragon, oregano, strawberries, Israeli melons and four varieties of heirloom tomatoes. 
Passing through another gate from the garden area, you will enter the lawn.  A shady oasis, it is anchored by a trickling fountain in one corner.   Cool grass provided a child-friendly area to run with bare feet and celebrate the outdoors.
If you love water features, bird baths, angels and fairy gardens, this one is for you! The McKells were drawn to this lot by the spacious and beautiful landscapes of the Hidden Valley Country Club and Golf Course.
As you peer around the yard, angels will greet you. In front of the home, four trees in the center of the cul-de- sac surround a three-angel water feature. Arborvitae along the rock wall quickly capture your attention. Ranae told her neighbor, "Those are deer candy!" And it is evident by appearance, how far up the arborvitae the deer are able to snack.
The walkway directs your path to the front of the home, encompassed by wonderful container gardens and a beautiful selection of coleus, sweet potato vines, succulents, dwarf trees and a beautifully bright Japanese fern maple. What a perfect place to sit and rest just a bit!
Creeping jenny greets you to the left and periwinkles to the right as you approach the backyard. A 25-foot Colorado Blue Spruces grabs your attention - such beauty! Many varieties of delphiniums, foxglove, hydrangeas, lavender, hostas, ferns, impatiens, mugho pines, and many others, plus a trailing wisteria can be appreciated as you meander throughout the front and back yards.
By now you will see one of the newest items in this lovely yard. The natural slope of the small hill was perfect for a double water feature which is surrounded by a collection of many varieties of perennial and annual flowers.
Approaching the house, what did you see? A fairy colony living amongst the succulents. As you are about to leave, a beautiful snowball bush bids you "Farewell."
Steve and Leslie Ensminger
Leslee and Steve Ensminger found the lot for their house and yard 26 years ago when this land was just beginning to be developed in Draper. This area is unique in that the property lines are not all straight but some sinuously curve to make the yards flow from neighbor to neighbor. The lot is full of granite rocks and boulders. With the exception of a few river rocks and bubblers, every rock in their yard is from the excavation of their property. Steve has most recently used the salt and pepper granite to construct the waterfall in front of their house. He hauled each and every one from the upper playground. Leslee loves the calming sound of water and there are many water features throughout their yard. This year they have installed underground wiring to all water features.
Around the west side of the house you will find vignettes in various forms among the plantings and then you will come to an inviting pergola/patio area made cozy with the low wall and entrance pillars. Notice the five "hanging baskets" Leslee's daughter made with fabric, wire and jewels replacing the usual hard-to- water flower baskets. Materials to decorate the wire structures cost $15 for all 5.
You will see lots of paths in the yard. The grandchildren love to follow each and every one. The lanterns on posts on the path leading to the newly constructed upper playground area hold a granddaughter's "secret" collections. Near the playground is the "parent's patio" complete with chiminea for chilly days and evenings.
Along the north wall of the garage is a water feature and three wrought iron arches planted with clematis and honeysuckle. The rock retaining wall nearby is made entirely of granite excavated from their property.
Most of the wrought iron, cushions, artwork and water features come from a favorite area of Mexico. There is something to enjoy from every aspect of this yard. Wherever Leslee goes, she is watching for ideas to incorporate into this peaceful and healing garden.
- MORRIS AND BABCOCK FAMILIES -
Sixteen years ago, the Morris families found the perfect location to plan and build four homes for their growing families. Nestled against the east bench of Sandy/Draper is an area that has so much natural beauty, it is truly a mountain paradise. The back yards of the family homes are all connected and can be accessed by walking along the beautiful paths constructed in the back.
Although four families share the property, so does the community. There is a famous, well-used walking and biking trail that runs about 500 feet above their property on the east side. The trail allows the enthusiast to walk or bike between Sandy and Draper.
We suggest you start in the Babcock gardens. Bruce and Amy Babcock have a beautiful backyard constructed in three levels. Each level has different features. Walk along the pathway across a bridge over the natural stream that meanders through their yard. Their yard features a fruit orchard with a walking path of small smooth stones. Note the fire-pit feature where the children can roast marshmallows or create s'mores.
Fred and Sue Morris (the parents) are both Master Gardeners, and although Fred supports Sue in her love of gardening, his greater passion is hunting. Look for one of the latest gardens developed on the hilltop: a secret garden displaying an assortment of sun-bleached antlers. A favorite feature of Sue's is a collection of bird-houses, posed on old tree trunks. Yes, there is much wildlife in the gardens, but Sue tries to live with and encourage the native plants and animals. She allows the deer to "come in for a snack" as long as they stay out of the vegetable garden. Luckily, the vegetable garden, pool, and greenhouse are enclosed in fencing (as long as everyone remembers to keep the gate closed!)
Zane and Cindy Morris have a stunning path to their front door which appears to be rock-work, but is actually made from poured cement. They also have many unusual, beautiful shrubs and a small stream that flows through their back area. Their yard has the play-house for the seven children of the three families. Unfortunately, the playhouse is currently off-limits! There is a family of skunks residing beneath it and thus far the Morris's have been unsuccessful in their attempts to trap them.
Lars and Carol Morris have a beautiful pond with water plants where mallard ducks often visit. A striking feature is the showcase rock-work and waterfall into the pond. Carol enjoys bird-houses, so look for the extensive collection in her garden! Their yard also contains the trampoline and play-yard for all the children. The garden is complete with decks and patios where they can enjoy family time and the beauty of their surroundings.
Graden and Sommer Jackson
We love to garden and we love our kids.  Four and a half years ago we purchased the "Kay Smith" house that sits on one and a quarter acres in Draper.  The 60-year old red-brick home had been used by the Smiths and the community as a landmark and hub for a significant poultry business.  At one time, we have been told, they had over 10,000 chickens.  When we purchased the property, we had planned to simply demolish the home and use the land for other things. 
However, we felt then and feel now that there is something special about the home and the surrounding ground.  Sommer was inspired by Laura Bakker, a great friend, to become a master gardener.  As she went through a number of years of classes we put a plan together that would transform the property into a place where our kids could work, where fruits and vegetables would grow, and where landscaping could be enjoyed.  While we are a number of years into this property, we still have many projects to complete. 
The garden itself is comprised of several metal and stone boxes with a new gazebo in the center.  We have an orchard with 48 fruit trees and then several metal boxes where we grow berries.  One of our future projects is to build a green house so we can get started earlier in the growing season.  To carry on the legacy of the Smiths, we also have a modest chicken coop.  When people see our garden they either think it is really neat or that we suffer from mental illness.  Both are probably true.  Primarily we love to work together as a family, and a garden this size provides many of those opportunities.
Terry and Shelly Morrison
This yard feels settled and comfortable for a "young" ten-year- old landscape, At first glance, the Morrison yard is a really lovely property and on further inspection, you realize that the yard is perfectly planned for homeowners who thrive on spending lots of time outdoors. Terry, Shelly and their family do a lot of entertaining out here – it feels like an extension of their home.
When I asked Shelly who cares for the yard, her response was "We are a team, a good team." Shelly hails from Tooele, but for 12 years they lived in California where Shelly found that it was easy to grow everything; she enjoyed proving it. She became the weekly "mow, blow and edge artist" there, and she still enjoys yard maintenance here. Shelly loves that Terry will let her do what she wants to do in the yard. She says it's still fun to find out what things will grow in the more challenging climate of Utah. (Peonies are a favorite.)
Terry is originally from Idaho and is the handyman of the pair. He can fix or make whatever Shelly needs him to. He also takes on the big jobs in their landscape like the waterfall clean out each year. He has made functional and beautiful trellises for the yard, and he repairs sprinklers and keeps the water features bubbling. A favorite part of their teamwork is pruning, a job they continue to do together each year.
If you ask Shelly what the most important part of yard work is, she will tell you not to wait to pull weeds. If you are going to the mailbox and see a weed, pull it as you walk by.
The Morrison's describe their yard as a labor of love and it shows. They know the joys of a beautiful landscape.
Shawna used to walk in the hills of Draper every day. When "her" precious hills got developed and planted with houses, she wanted to re-create the effect of her walks in the mountains. So she and her husband have created a large part of their yard to look as if you are walking in the hills with many pathways completely overhung by bushes and trees. You are walking down a pathway and cannot see what is around the next bend until you continue forward. This forest area of the yard is covered in wood chips, since it is so shaded and no grass can grow there.
The Draper's acre is also designed with beautiful water features. The lower part of their yard has grass areas next to two separate ponds—each with a small waterfall. Each of these lower ponds is connected by 100-foot streams to more dramatic upper waterfalls and small ponds. These upper waterfalls are some of the surprising discoveries that are found on the walk through the forest area.  Along the stream, they have also created their own wetlands, with wild grasses that help to clean the water of the ponds and streams. The entire yard flows with a very calming and serene atmosphere.
The Drapers have planted many native Utah plants in their yard including: white snowberry bushes, Amur maple, service berry, red twig dogwood, white mulberry bushes, aspen, etc. They have chosen plants that survive well using Draper irrigation water. They also have many old-fashioned snowball bushes and lilacs as well as a variety of other bushes and trees. Come enjoy an unforgettable experience in the Draper's yard.
Eric and Leslie Hughes were attracted to this lot because of the creek running through it. When they began building the house and yard 16 years ago, most of the back yard was under water.
Dredging upstream has brought the water to a more acceptable level, though the level of the pond has varied from year to year. Eric (the mastermind of house and yard) owns a dumpster business and has salvaged many materials for the yard and house. He loves repurposing other's castaways. The window boxes on the back of the house came from an old mortuary. Much of the paving and outdoor furniture were salvaged as well. Eric and family built every part of their house except the stucco, fascia and rain gutters. Grandpa did most of the rock work on the house.  Construction continues with new projects every year.
From the front yard, follow the south steps down through Leslie's "secret garden" featuring favorite plants and a peaceful retreat with espaliered Boston ivy and wall fountain. A new gazebo is the project for this summer where they will be able to enjoy the view of their park-like yard.  You will see a bridge built over the creek (another bridge is planned), beehives near their salsa garden, and a waterfall constructed by their then young teenage sons. There is a patio under the overpass which is cool all summer and a you'll find Eric relaxing there when not working on one of his many projects. The wisteria vine above it is gorgeous in bloom. Sadly it is finished for this year. As you ascend to the front yard on the north notice the weeping cherry, another family favorite.
The fish in the small ponds are 27ཱ goldfish. Turns out they survive better than the expensive coy. Plants in the yard are mostly from family and friends, starting out as small plants which spread here and there. Almost every plant has a history and sentimental value. The Hughes' like an informal English garden style, tending toward the wild. The like natural barriers on the property lines rather than fences. This is a yard built with a budget, repurposed materials, hard work and imagination.
The Cary's yard has a lovely, secluded feeling.  As you enter through the gate on the west side, you're greeted with a lovely little sitting area, but the glimpse of the rest of the garden area lures you on. Entering the backyard proper, you find yourself  in a neatly laid out forest glade, with tall trees casting shade over most of the yard. Peace pervades the area as you explore each little nook and cranny, finding everything in its place.
Mr. Cary enjoys working in his garden, but stresses the importance of designing it all out on paper before ever putting plants into the ground.  Just recently he redid part of his yard, as the plants he'd originally planted were no longer working. See if you can see where his new choices are striving to catch up with their more mature counterparts. Though most of the landscape is left to take care of itself, you can see Mr. Cary's loving work in the way he has pruned his lilacs, boxwoods, and other specimens throughout his yard.  
Though much of the yard is very sophisticated, the Cary's love for their grandchildren is evident through numerous features in their garden. There are great hiding places throughout the yard, a whimsical castle, and even an electric train.
Every detail is taken care of, and the details blend together beautifully to make a most exquisite tapestry.
Situated behind the Myers' captivating home on Polo Club Court, just off of high traffic 114th south, this garden provides a sanctuary against the stress and noise of the world outside its beautiful yet unimposing walls. Filled with a diverse collection of flowers and shrubs, and with trees like Japanese maples, this large yard also embraces a weeping Norway spruce and a Karl Fuchs cedar, which was the most gorgeous, and massive I have ever encountered.
This garden does not overwhelm: it draws you irresistibly into its tranquility, soothing you and making you want to stay within it forever, like Eden itself. It is intimate, yet you'll find it a "social" garden, with many seated areas surrounded by perfectly selected and landscaped trees and flowers. When you sit in the charming and shaded swing chair (actually a suspended and luxurious couch), you immediately lose all ambition to do anything other than smile, perhaps read, and above all, not worry. When you settle yourself into the pergola area, your only thought is to relax into the embrace of the wisteria surrounding it.
The Myers have designed an enticing waterfall that does not trespass upon or distract from the peace of the garden, but instead merely trickles quietly into a small pond beside which it is a joy to sit, and just be. A small bower on the south side of the garden provides what all of the seated areas of this garden offer: a privacy that is yet somehow open, open to all the other sights, gentle sounds and peace to be found in this incredible garden.
The first impression one has of this beautiful garden is the astonishing and well-planned diversity in all the factors that comprise a picturesque garden: textures, colors and variegations of foliage, sizes and heights of plants, hard and soft landscaping in the use of stone and wood, ingenious water features and the luscious use of shade.
The entrance to the Mason's home creates an atmosphere of beauty and serenity that pervades the entire gardens. Some of the front plantings lie in a raised bed created by a dry-stack flagstone wall. As you walk toward the front porch on the massive, curving flagstone walkway, you are greeted with the soothing sound of the driftwood water feature. Mature cedars, other unique evergreens as well as established Japanese maples also contribute to the leisurely shady entrance that invites you to linger and ponder the beauty that surrounds you.
As you walk on the east side of the home to the back, a tricolor beech demands your attention with its striking brilliance. Note the two water features in back, including a chunky basalt bubbler made by a company in Idaho that Ryan is a distributor for. The other, a cascading stream, has a resident duck that has made itself right at home. With the profuse number of perennials such as heuchera, hosta, lamium, brunnera, forget-me- nots, climbing hydrangeas, and a fern grove, Bonnie has also integrated many annuals. Nothing looks crowded in these beds, and the tasteful blending of trees, shrubs and flowers is delightful.
Ryan, a professional landscape designer, created and implemented the garden design. Bonnie pretty much handles the yearly maintenance. She says she works every year on improving the clay soil, both with used container garden soil and other amendments.
What do the home owners love the most? The feeling of being in our beautiful mountains. 
Bonnie says, every night in the summer, they open their bedroom windows and listen to the bubbling brook (water feature) below all night long, simulating the soothing sounds of a mountain stream.
Moving from the Chicago, Illinois area approximately three years ago, we felt we had found "home", as long as we stayed indoors. No landscaping existed in our three yards – not even foundation plants, except along the shortest face of the house.
Motivated by the lady of the house (Pam) and with the assistance of and introductions provided a friend (years ago in Michigan and now in Draper), we undertook a multidimensional "creation". Having enjoyed a "water feature" in Illinois, our first objective was to create one in Utah. As part of the water feature phase, we added surrounding bushes and trees, just in time for winter's arrival. ("We" as in a man we hired, whose marvelous talents and foresight stayed within budget.)
The following spring, we added bushes and perennials around the foundation of our home and reorganized some plantings and created additional beds to be filled later. By last summer's end, we had added a number of trees (various types) in the yards facing the two streets that make up our corner lot. To enable nighttime enjoyment, we installed a lighting system that highlighted trees and the water feature.
This spring, we filled all remaining beds with perennials and added annuals throughout for finishing touches of color, as envisioned and designed by Pam.
Great things have resulted from this "creation": 1) Our family, ncluding our two daughters at BYU, have found another focus for combined effort and shared satisfaction; 2) their parents have their own Eden for relaxation and conversation; 3) we have become acquainted with several very talented persons, who have taught us and enlarged our vision of "beauty" outside our home; and 4) neighbors we hardly know now stop by and share in our enjoyment, expanding our universe of friends.