What is a Master Gardener? USU Certified Master Gardeners are people just like you who have completed Utah State University Extension's Master Gardener Course, where they received an extensive, research-based horticultural education. They then use this information to serve and educate within their local communities.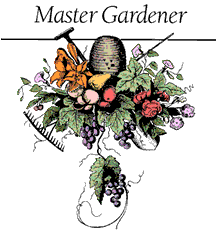 Want to know how best to control weeds or insects? Curious about the best time to plant vegetables or which shrubs or perennials will thrive in your yard? Interested in the mysteries of fertilizers? Do you want training in the correct way to prune fruit trees and roses? Love the Tulip Festival at Thanksgiving Point?
Become a Master Gardener!
Master Gardeners are trained volunteers willing to share their time and expertise to help folks in their community garden more successfully. The Master Gardener Program is part of the educational outreach of USU Cooperative Extension. Each year classes are held throughout the state, including at Thanksgiving Point in Lehi. Avid gardeners meet weekly for instruction. Each potential Master Gardener completes at least 40 hours of volunteer work in the community. This volunteer work may include talks, demonstrations, teaching classes, diagnosing plant problems, answering gardening questions, and volunteering at Thanksgiving Point, the County Fair and Farm Field Days.
If you love gardening and want to share your passion, sign up for the Master Gardener Program. Get on the waiting list now because the classes fill up very fast. There's no obligation to be on the list; you'll just get first dibs on a spot in these very popular classes.
Become a Master Gardener!
Master Gardener Program
In 2007, Utah State University (USU) Cooperative Extension reached its 100th year anniversary of service to the citizens of Utah. Now in its second century, USU Extension continues to serve the people of the state.
The USU Master Gardener program is an important part of that service and extends the reach of university resources and information to the people of Utah. After completing the training and becoming certified, Master Gardeners become a vital part of this educational community.
In 1972, Ogden native and USU graduate Dr. Dave Gibby of Washington State University soon realized that the demands on an Extension Horticulturist for gardening advice were overwhelming. Building on successful Extension volunteer program models such as Extension Homemakers and 4-H Club Leaders, Dr. Gibby developed a horticultural volunteer training program. The trained volunteers could then help others solve pest problems, suggest appropriate plants for the area and offer advice on other horticultural problems.
Dr. Gibby eventually formalized the Master Gardener training. The USU Master Gardener Program was established in Utah in the 1980s and is now taught in many counties throughout the state.
Master Gardener Training
USU Extension oversees the USU Master Gardener Training Program which is an intensive training course covering a wide range of horticultural topics. It is divided into two parts. The formal training consists of 40 or more hours of classroom and laboratory training. Classes cover basic botany, soils, fertilizers, vegetables, fruits, entomology, pathology, turfgrass, trees, shrubs, ornamental flowers, pesticide safety and pest management. After the classroom instruction, participants must pass an exam on these materials
While the gardening classes are interesting and personally helpful, the Master Gardener program is a volunteer training program. In addition to classroom instruction and labs, students must complete a minimum of 40 hours of volunteer service before being certified as a Master Gardener. The volunteer hours must be approved by the USU Extension agent in charge of the county program and fit the general criteria of extending USU Extension's mission to the people of Utah. Thousands of people throughout Utah routinely benefit from Master Gardener services each year. These volunteers guide garden tours, give garden talks, help with county and state fairs, man question and answer booths and help with diagnostic clinics at USU Extension offices.
*******************************************
If you are interested in taking the Master Gardener Classes, you may contact us HERE.
*******************************************